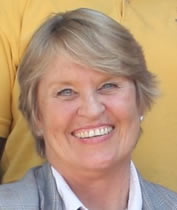 Name : Mrs Lee-Ann Shearing
Title : Master PRLS 5 graduate
Organisation : The Learning Curve
Motivation : Lee-Ann joined the Rotary Club of Harare West on March 27th, 2006, introduced by PAG Kathy Gilbert. She started getting involved immediately by joining the Projects Committee and in July of that same year was appointed PR Chair for the Club, a position she held for 2 years. This position meant that Lee-Ann got involved in every aspect of the Club as she firmly believes that PR starts with each and every Rotarian and it starts in the Club! Her next appointment was Projects Chair and she was Club President in 2009/10. She has also been the Club Trainer and Foundation Chair for her Club.
Lee-Ann is a recipient of certificates of recognition from every President every year from her Club and has been awarded two Paul Harris Fellow pins from her Club in acknowledgement of her commitment and dedication to all things Rotary as well as a Paul Harris pin from the District. Lee-Ann served as Training Coordinator for Zimbabwe for 3 years, 2007-2010, was named President of the Year in 2009/10 and served as Assistant Governor 2010/12. She was the District Trainer for 2012-2014 and 2015-16. She was the District Newsletter Editor in 2008/09 and again in 2013/14. She was awarded the Rotary Foundation Business Service Award in 2007/08 and is a Master PRLS 5 graduate. She is a member of Rotarians on Social Network Fellowship (ROSNF), Rotarians on the Internet (ROTI) and is a member of a new action Group– Rotarian Action Group for Endangered Species RAGES.
Lee-Ann has attended every District Conference since 2006 and has been on two Conference organising committees in 2008/09 and 2013/14. She also participated on the Organising Committee for President Ravi Ravindran's visit to Zimbabwe in March 2016. Lee-Ann is passionate about training, especially empowering youth, and has conducted many PRLS courses, both in Zimbabwe and Zambia, and has also facilitated training and team building with Rotary clubs and Rotaract Clubs. She identified 2 successful GSE members and has been on the Zimbabwe interview panel for a VTT group. Lee-Ann worked in various aspects of the travel and tourism industry from 1975 to 2001 including Marketing for Sheraton Hotel, safari consultancy, air hostess, and lodge management. She joined the finance industry in January 2002 initially administering a remuneration scheme for corporate executives. She then moved into the asset management side and was Client Liaison at CBZ Asset Management until December 2012. Lee-Ann then decided to follow her passion and left to open her own Training Consultancy firm, The Learning Curve, where she specialises in, amongst other things, Strategic Planning, Business Ethics and Sustainable Leadership. As part of her vocation she volunteers to do pro-bono work for charity.
She has travelled extensively in her life and has been fortunate enough to visit Australia, USA, UK, Europe, The Philippines and many of the Southern African Countries. Lee-Ann has been with the love of her life, Andy House, for 14 years. Lee-Ann introduced Andy to Rotary in 2006 and he is a dedicated and hardworking Rotarian, currently Assistant Governor, who she is blessed to have in her life.